TEACHER TRAINING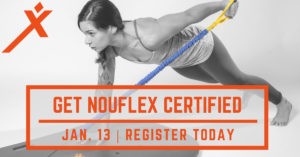 FOUR WEEK WORKSHOP
Two new opportunities to try the Nouflex Training System!
MONDAY
9:10 am – 10:00 am with Sharman

5:30 pm – 6:30 pm with Anel
Starting January 7th
In this 4 week series, you will learn the basics of the Nouflex Training Systems. Nouflex is an exercise system that focuses on core stability, balance and flexibility. Use the Nouflex board to build strength while getting lean muscles. The board is shock absorbing therefore minimize impact on the joints. Increase balance and improve range of motion.
Call the Lumina Welcome Desk, call 508-358-6022 or Click here to register